CLEAR
ODORLESS

QUICK-DRYING

AndroGel 1.62% is a topical testosterone replacement therapy gel available in a metered-dose pump or travel-ready packets. Before you prescribe, get familiar with the patient journey.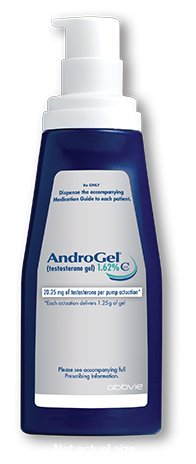 How to dose & titrate:
GET HIM STARTED
Set his expectations by discussing:
The amount of time it may take to raise testosterone levels
The need for ongoing monitoring to ensure he is on the right dose
Daily application of AndroGel 1.62%
Start him on 40.5 mg—pump or packets1
The application site and dose of AndroGel 1.62% are not interchangeable with other topical testosterone products.
FOLLOW UP WITH HIM
Monitor his treatment results and titrate as needed1
Monitor pre-dose morning serum total testosterone (TT) concentration:1
14 and 28 days after starting treatment
Following dose adjustment
Periodically during treatment and titrate dose based on patient's response to therapy
After starting him on 40.5 mg, adjust dose as needed based on response to therapy:1
PRE-DOSE MORNING SERUM
TOTAL TESTOSTERONE
CONCENTRATION
DOSE TITRATION
>750 ng/dL
Decrease daily dose by 20.25 mg
≥350 ng/dL and ≤750 ng/dL
Continue on current dose
<350 ng/dL
Increase daily dose by 20.25 mg